Planned gifts are an investment in our future, allowing Steep Rock to continue its important work in conserving our natural landscapes, maintaining trails, and fostering environmental education for generations to come.  To join this amazing group of people helping to protect the beauty and natural resources of the Litchfield Hills, contact Monica Roberto at (860)868-9131 x106. Click here to learn more.
If you have already included Steep Rock in your estate plans, thank you! Please let us know so we can welcome you to our Legacy Society by calling us or returning this bequest intention form:
Anonymous (3)
Judy Black
Josephine Dobkin
Natalie Dyer 
Kirsten Feldman and Hugh Frater
Valerie Friedman
Joe Gitterman 
David Goldberg
John Herrmann
Margaret T.M. Jones 
Jessica Kogel
Susann Kurz
Mrs. Georgianna Middlebrook
Phyllis Mills
Kirsten Peckerman
Eugene Pinover
Barbara Porter
Mr. William Porter
Sue & Ray Reich
Frederick Roberts
Peary and B.K. Stafford
Chick Treadway
Hedda von Goeben
Daniel Whalen

Katherine Wenning
Thomas Zissu
Legacy Society Testimonials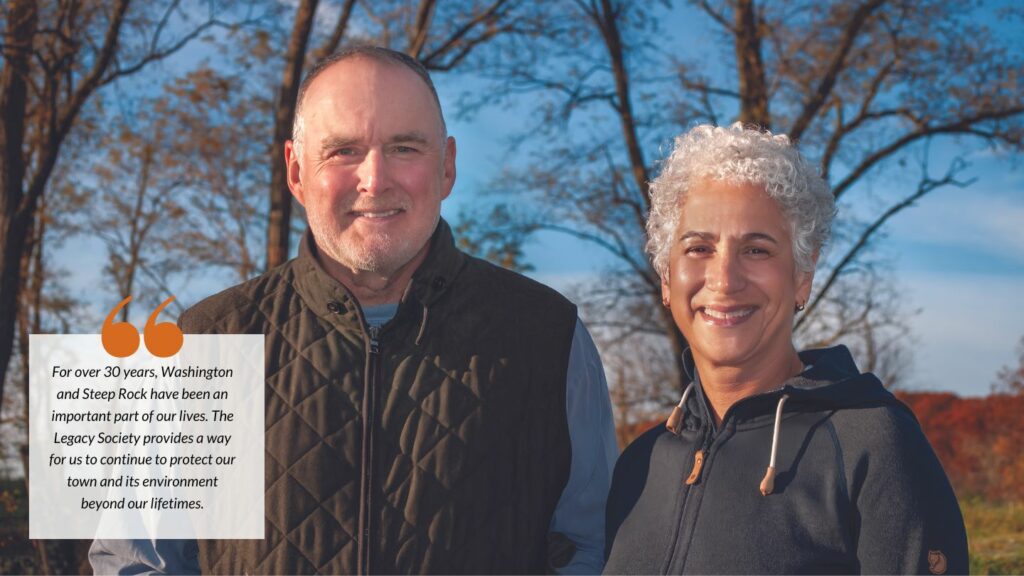 It is the general policy of Steep Rock that all gifts shall be presumed to be for all charitable purposes (i.e. unrestricted) unless there is an explicit restriction. This allows the organization to apply the funds to the most pressing needs at the time of funding.  Contact us for a copy of Steep Rock's  gift acceptance policy. The information found on this page is intended for informational purposes only. We recommend consulting with your legal and tax advisor before making decisions involving your estate
Get in touch
Do you have questions for our team? Let us know how we can help.  And, if you've already included Steep Rock in your will or estate plan, let us know.  We'd love to officially welcome you to Steep Rock's Legacy Society!