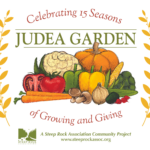 Judea Garden – The Giving Garden, a Steep Rock Association Community Project, is thrilled to announce the commencement of its 15th season and the celebration of the Garden, the People and their Stories. This remarkable milestone highlights a decade and a half of hard work, dedication, and community involvement that has allowed the garden to flourish and provide fresh produce for the less fortunate in the region.
The Washington Giving Garden supports local families in need with fresh, healthy produce including tomatoes, squash, cucumbers, peppers, and more. It has also become a vital community hub where volunteers unite to cultivate the land and make a difference.
Judea Garden's 15th season showcases their unwavering commitment to fighting food insecurity. From a small patch of land, it has grown into a sustainable operation, feeding countless families in our community. The garden has also served as a model for other organizations and communities to follow, inspiring similar projects in the region and beyond.
To celebrate the 15th season Judea Garden is hosting an Open Garden event on August 19th, 2023. Enjoy food, drinks, garden tours, and learn about their mission and goals.
"We're thrilled to be celebrating our 15th season and the growth of Judea Garden," said Denise Arturi, the Manager & Head Gardener of Judea Garden. "We're grateful to everyone who has supported us over the years and contributed to our success. We look forward to continuing to serve our community and inspire others to do the same."
Join the Judea Garden event to support their mission and celebrate their success. Please see our calendar of events below.
Contact Denise Arturi at denise.arturi@steeprockassoc.org or 860-868-9131 for further inquiries.
Judea Garden 15th Season Celebration Calendar
Thurs., June 22 – Round Table/Potluck: Food Insecurity in Litchfield County 6:00 pm
Sat., June 24 – Garden to Exercise, Exercise to Garden 9:00 am.
Thurs., July 20 – Round Table/Potluck: How Can You Build Food Security 6:00 pm
Sat., July 29 – Kids in Judea Garden 9:00 am
Sat., August 19 – 15th Season Celebration and Open Garden 5:00 pm – 7:00 pm