One of Steep Rock's initiatives is to protect and enhance biodiversity. Biodiversity is a measure of the variety of habitat types and species present on our preserves. Often, ecosystems containing a high degree of biodiversity are more productive than those without. This is due to an enhanced connectivity between organisms resulting from each playing their unique role (niche) in their respective community.
Early successional habitat was historically more abundant throughout Connecticut's landscape. Land that was cleared for farming or timber harvest became colonized by early successional tree and shrub species. Forests have matured and now dominate the land, resulting in a significant decline in the thickly vegetated environments of meadows, thickets, and young forests. As one may expect, populations of wildlife that depend on these habitat types have also declined. They include the New England cottontail and a slew of avian species (American woodcock, ruffed grouse, eastern towhee, prairie warbler, golden-winged warbler, blue-winged warbler, brown thrasher, and field sparrow).
Steep Rock Association has undertaken several biodiversity-driven projects to restore early successional habitat and I am often asked by hikers about tree felling in the preserves. This post is to inform and educate the public on the management techniques we employ to increase the availability of this habitat type on our land.
Edge Feathering
The term "edge" is used to describe an area where two or more habitat types meet. The most abrupt and noticeable of these is the junction of a mowed or managed field and mature forest, which offers very little value to wildlife. An edge of greater value consists of a gradual transition between habitat types, which is typical of those created by natural disturbances.
The transition from field to forest is created through a lack of mowing in the field (natural revegetation) and thinning of overstory trees in the forest. Zones are partitioned in the forest and receive varying thinning treatments. The first zone, adjacent to the field, is thinned the heaviest, resulting in an open canopy and abundant sun reaching the floor to stimulate new growth. The second zone is thinned a bit less and so on in order to create a minimum transition area of 150 feet that will eventually contain vertically diverse structure. Some cut trees are used to build brush piles in the edge that provide cover for wildlife, but most material is left lying on the forest floor for decomposers to break down and cycle nutrients back into the soil.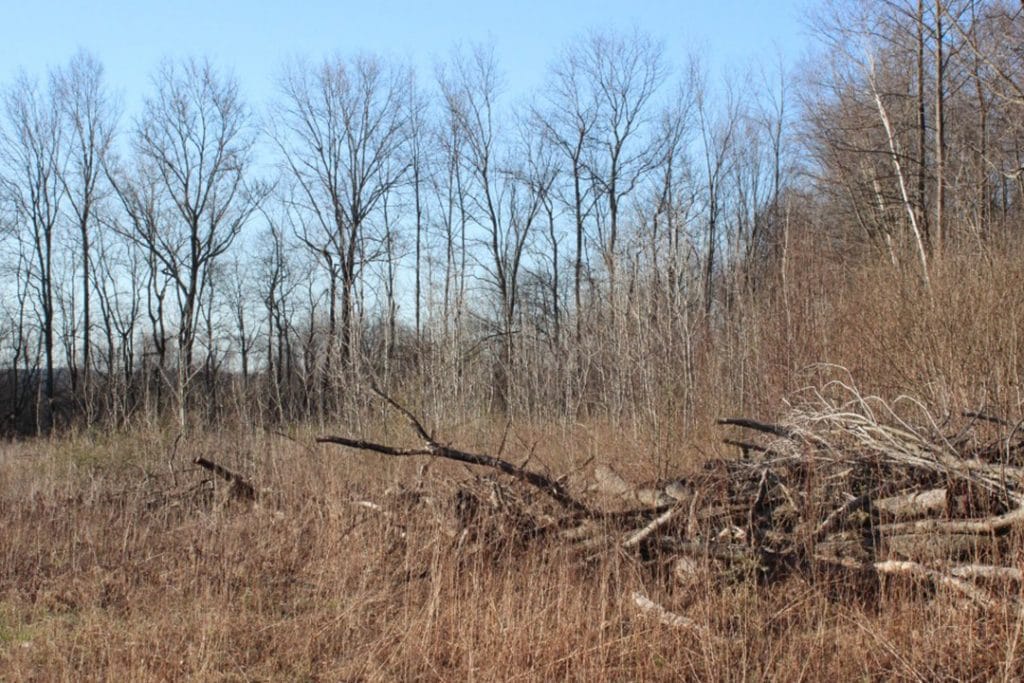 Clearcut and Thinning
These management techniques have been employed on a multi-year project focused around a meadow in the southwestern section of Hidden Valley. Its original size of 1.1 acres fell below the minimum requirement for many early successional dependent species, which is approximately 3 acres. Clearing and thinning of the forest around the meadow will establish new meadow, shrubland, and old field habitats, increasing the amount of connected early successional habitat in this nook of Hidden Valley Preserve to approximately eight acres.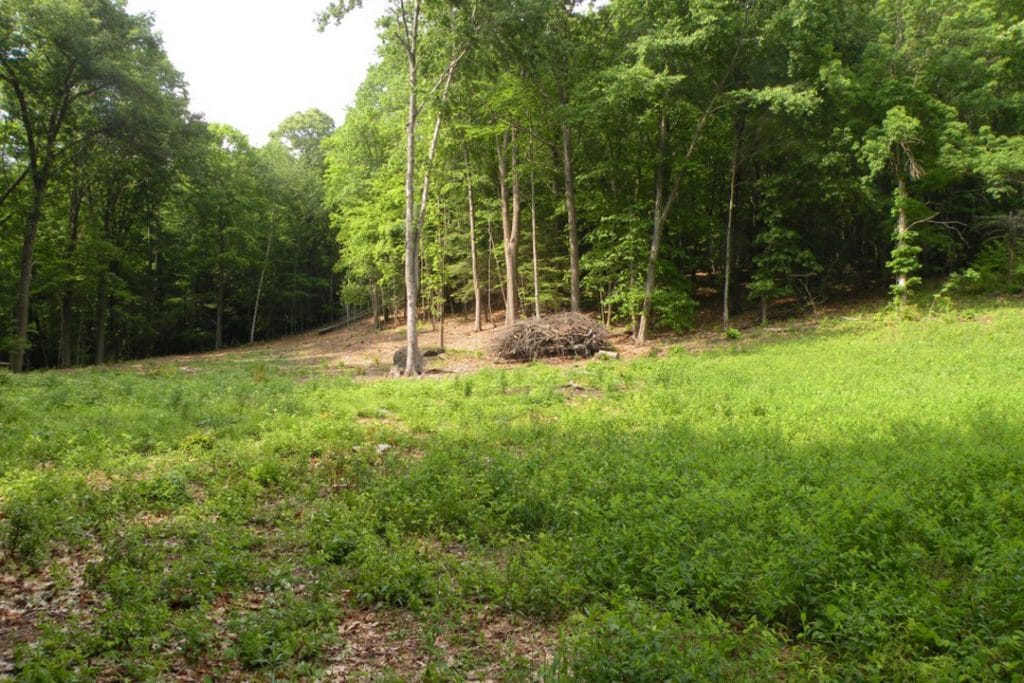 Girdling
Girdling is a practice used in conjunction with the other management techniques mentioned. Rather than felling a tree, it is killed by removing a strip of cambial bark around the perimeter of its trunk. This prevents the transport of water from roots to crown, creating a standing snag (dead tree) beneficial to copious insects and wildlife that feed on them. In addition, the absence of a leafy crown during the growing season lets light into the understory. Mature trees are targeted for girdling since they stand for a long time and can support large cavities necessary for some species. Tree species differ in their resistance to death by girdling and resistance to decay. For example, the oak depicted below will die faster than a girdled maple in the same setting, but once dead, the maple may decay faster over time. These are considerations to take into account when managing for the presence of snags with varying degrees of decay.