by Rory Larson
The Gift of Baby Birds
Every year, Steep Rock Association (SRA) caringly cleans and prepares nest boxes to provide habitat for birds, and every year, SRA staff and citizen scientists then monitor the reproductive success of their tenants.
Scientific studies shows that our hard work pays off, and it is one of the greatest gifts to hike, paddle, or climb to open a box and find baby birds inside. The 2021 season has been made extra special, however, by surprises held within American kestrel boxes.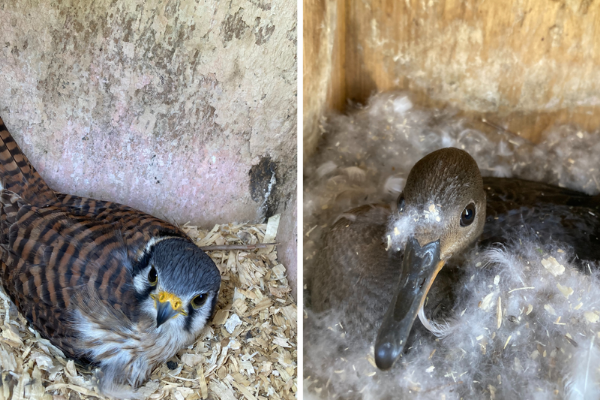 LEFT: This female American kestrel usually keeps a close on eye on the nest from a pasture-side perch or the sky above, but she refused to expose her clutch at all during the initial check.
RIGHT: Wait, that's not a kestrel! While not the same species, this female hooded merganser shared the same resolve as her box counterpart. The observation was a "first" in two regards – the first nest attempt in this particular box AND the first nest attempt by a duck in any of our kestrel boxes.
Check out our latest, and fun, Notes from the Field entry to learn more about SRA's nest box management and research.